Dear Friends & Customers,
Fall 2021 has arrived…unsurprisingly, its raison d'être has myriad roots but all are firmly anchored into an exploration of what it means to be "modern".
I speak often about the importance of the balance of chill, modern and classic (for Creative Pragmatists who have dug into our Tibictionary, you live and breathe the well-loved "CMC"). The Cs can be self-explanatory, but 'modern' is harder to articulate. For me, 'modern' means feeling present and alive in the moment because there is some element of new and the undiscovered at play. At Tibi, we challenge ourselves to strike the balance of newness with an assurance of the familiar and the functionality that, put simply, just has to be there. Clothes are meant to be worn, after all.
To create a collection that challenges the eye and pushes the creators and the wearers forward, it is never as simple as answering "what's missing in our closet?" Instead, the answer lies in the dissection of our cravings and thought process on how to present the collection so that our customers can see what we see. When Byron, Tibi's art director, and I brainstorm on how to shoot our campaigns, we try to find ways to tell a collection's story in the simplest way so that it can be quickly understood. With the exploration of 'modern' firmly in view, we asked ourselves:
1) how do you identify 'modern'?
2) how do we create 'modern'?
You can only know what is modern if you are part of the "here and now" for it exists in a state of flux. The ability to recognize it strengthens when you pursue knowledge, exercise curiosity about the things you do and do not know, and challenge yourself to embrace foreign environments, physically or metaphorically.
As for the creation question, we emphatically believe that we must work in a creative bubble free of algorithms, likes and hearts, and external pressures. To create, you must explore the unfamiliar. Try. Fail. Start over. As you may know already, we uniquely have this freedom because we are independently owned.
Byron's and my brainstorming on how to best lay bare the definition of 'modern' led us to the epicenter of creative learning: SCAD - the Savannah College of Art and Design. We could not conceive of a better representation of what it means to pursue learning and critical thinking with creativity as your fuel.
Paula Wallace, the founder of SCAD, gave us free rein of the campus and the college's talented students. We spent a week in Savannah bringing Fall 2021 alive through photography and film, collaborating amongst Tibi's team of artists, the models, and students who were enthralled to apply their learnings to real life. We came out of this experience enriched and re-invigorated by the process of creation and bringing ideas to life.
I hope you will love the collection.
You will find all of our artists' hands in the work. Traci, our head of design, deftly works with classic fabrics like tweeds into new shapes, but with a respectful nod to heritage. Hanna, our design director, manipulates knit fabrics into a hybrid of distress and refinement, striking the CMC balance. Her creations extend this season into jewelry that she crafted out of clay. Hanna articulates our desire for chicness balanced with levity --- perhaps only a strange, bright orange beaded earring can produce this tension. Dione, our styling director, and I styled the collection to push our viewpoint, daring ourselves to see things in a different light.
I leave you with this: if feeling and being 'modern' intrigues you, embrace and enjoy your visceral reactions to style and your desire to express yourself through what you wear. Be present and alive in the moment – it is a gift that we all should cherish.
Be well,
Amy Smilovic
Creative Director & CEO
The Fall 2021 Editorial Campaign
The Fall 2021 Editorial Campaign
SCAD Students' Portfolio
Captured during the Tibi Editorial Campaign Shoot
SCAD Students' Portfolio

Captured during the Tibi Editorial Campaign Shoot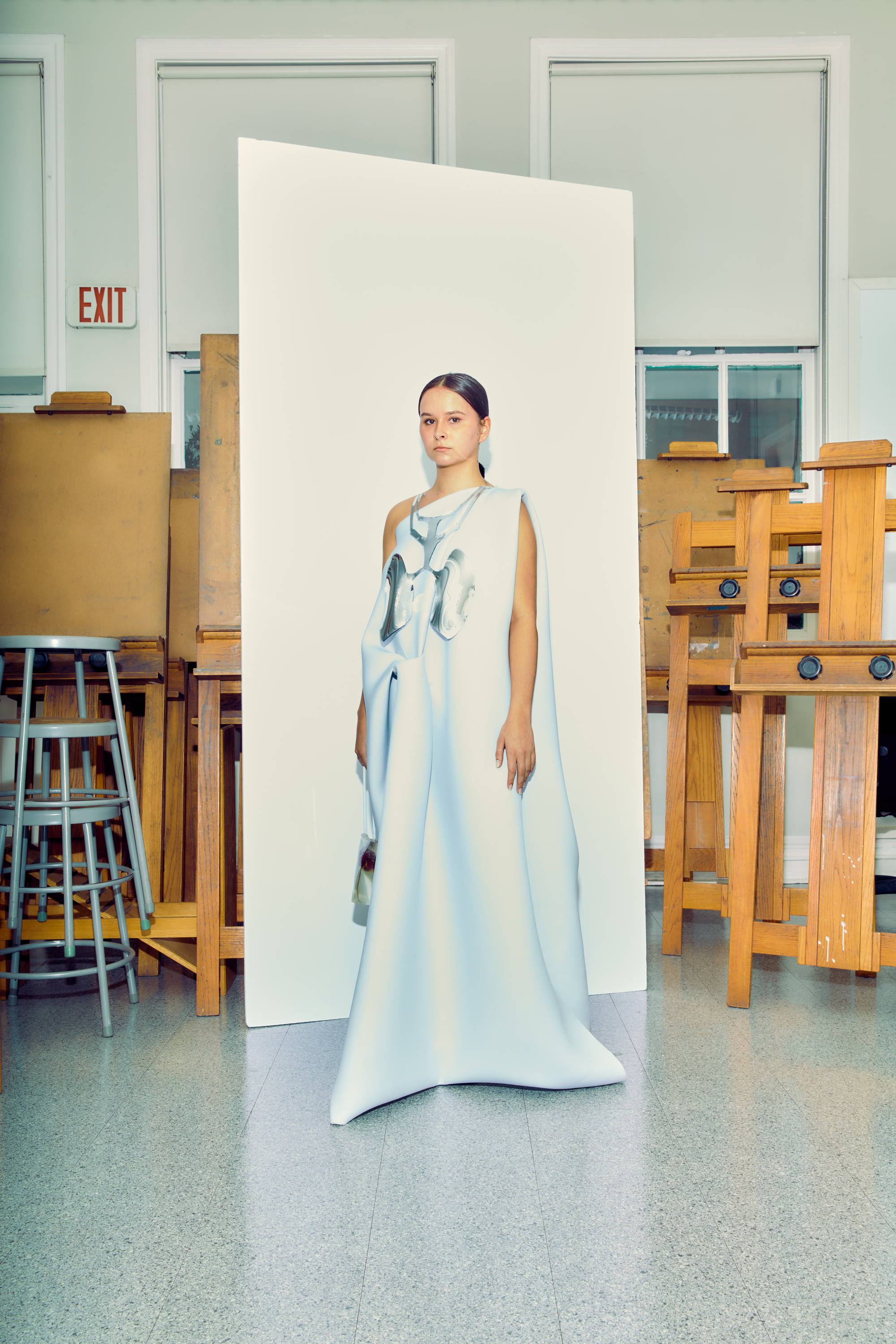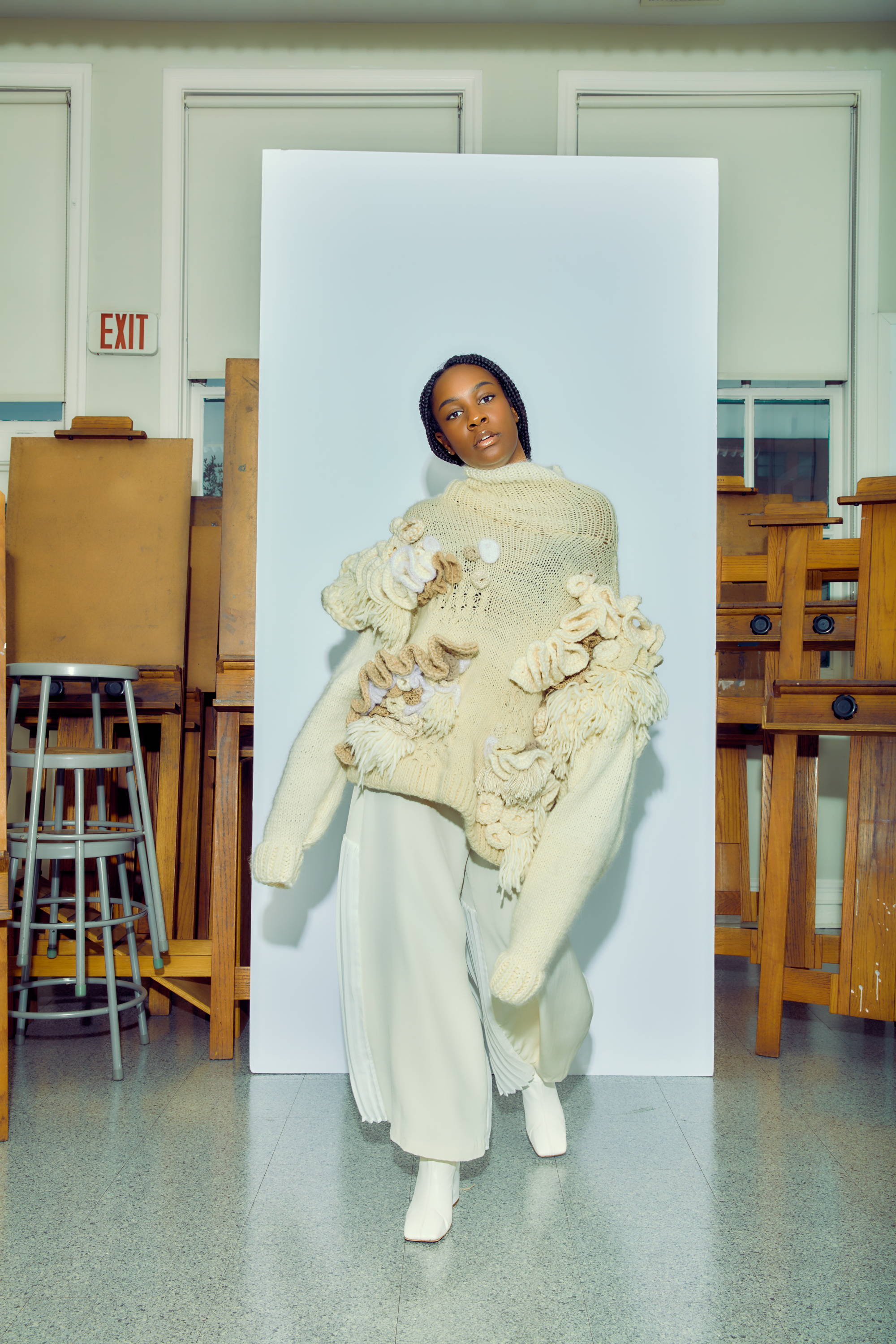 Wallin Hall, SCAD
Design: Nzingha Helwig, SCAD BFA Fashion '21.
Model: Darby Farr, SCAD BFA Performing Arts.
IG: @_zingzing_
---