Tibi Social Club: Marjon Carlos
The journalist and public speaker's forecast for fashion in the new era.
    I realize we're well into the second month of the new decade and discussing the cultural significance of the Roaring '20s may feel a touch late, but given the cultural milestone that 2020 is, let's allow it. The year stands for massive upheaval, a precious time that yields significance and clarity, and it's not something you just reconcile in a few week's time. We'll be discussing this era as we move through it – trying to make sense of the new phenomenons and happenings that emerge, and if I'm being honest, determining what we're going to wear to endure them all.

    Yes, I'm aware that our environmental and political futures remain uncertain, and are much more pressing of concerns – but we're all still very much interested in fashion. We're of course educating ourselves on making wiser decisions when we shop--we all want to cut our carbon emissions by half by the decade's end – but clothes are unavoidable. We all have a stake in them and I know I certainly am trying to figure out what I'm exactly going to be wearing this new era. Because just as time rolls on, so do I. I'm aging. I'm in my late 30's, although I still feel like I just shot out of the gate. I'm wisened to the ways of the world and entering into a new relationship with myself. More assured; much more confident, ready to take some risks. I want my clothes to reflect this growth.
    So where have I begun, exactly? Well, for one I have cut down on impulse purchases. Now everything feels like an investment, even if it's a t-shirt because I have to ask, "Do I really need this?" I've worked in fashion for ten years, so my closet is brimming with options. To invite another one into my bulging wardrobe is to first really consider its additive value. Subsequently, I purge constantly and I've leaned into this idea of "uniform-dressing", which is most likely a byproduct of my freelance life. As a journalist who works mostly from home, the stakes are, well, quite low, so if an item of clothing works, I wear it often and without guilt.
    The tacit rules of Instagram would suggest you could never be photographed twice in an ensemble, but they failed to take into account the growing perma-lance segment of the population who is trying to get errands done and hit deadlines without losing time thinking up new, novel outfits. Uniforms, consisting of pieces that consistently work and make me feel pulled together, are in heavy rotation. Fantastic blazers, strong pantsuits, hard-working boots, insouciantly cool knit sets.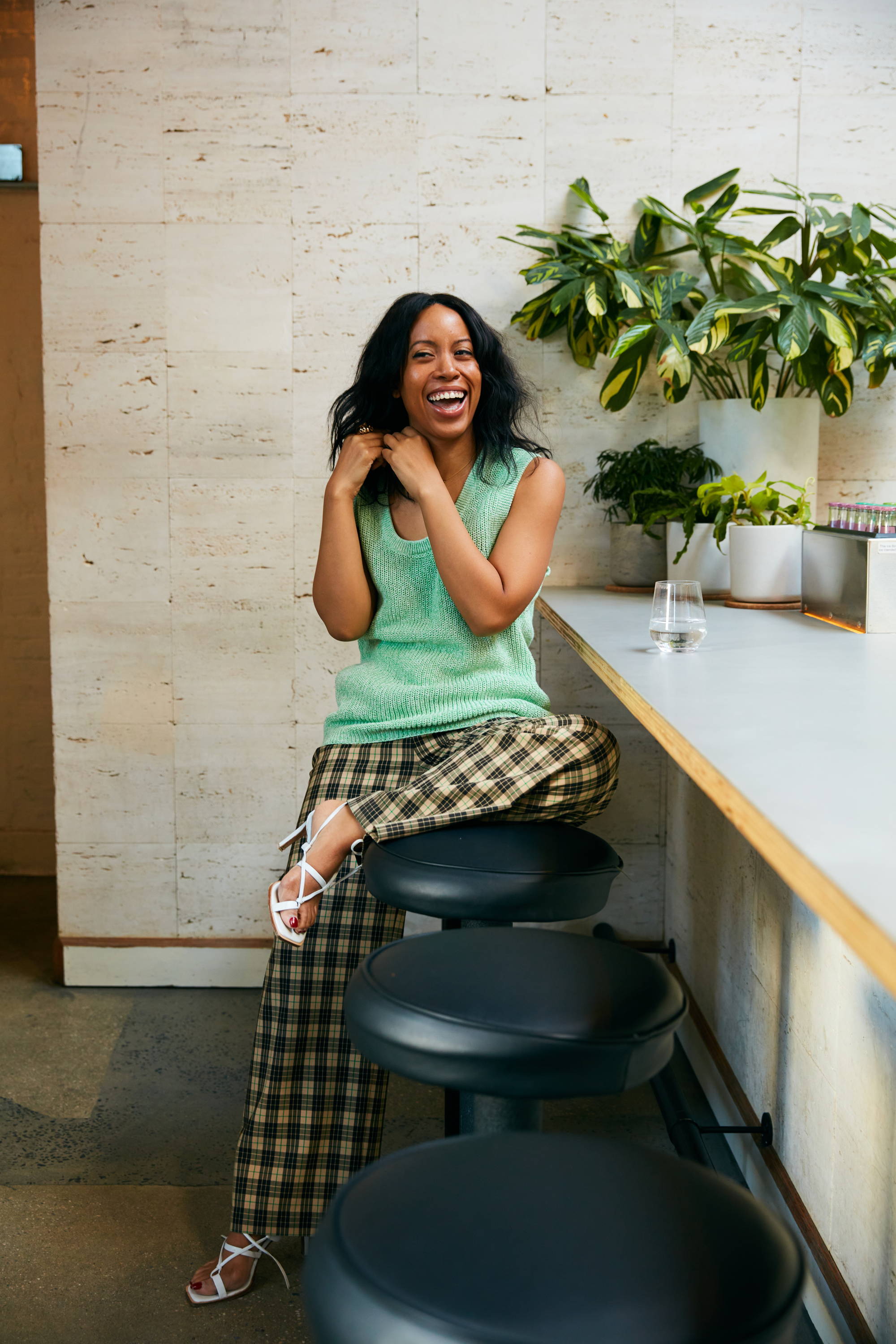 Still, for all of my "creature of habit" dressing, I also force myself to dress up when the occasion demands it. I am still a fashion person and the jolt I receive from wearing an exciting garment or pulling together an unexpected combination of items always provides a sense of renewal.
It's so funny but dressing for the future used to mean dystopian chic – like somewhere between The Jetsons and Fifth Element, and perhaps the silver pants I'm wearing from Spring 2020 here speak to that vibe – but really I've found it's about applying your principles to your wardrobe. Evaluating the demands of your life, being honest with yourself, and dressing firm in who you are.
Photographed at Public Records in Brooklyn, New York.